7 Vancouver Events to Check Out This Summer
UNINTERRUPTED: A Cinematic Spectacle
As the sun sets over Vancouver, the undersurface of Cambie Bridge is transformed into a wild river filled with migrating salmon. UNINTERRUPTED is a combination of cinematic storytelling and high-tech art installation, bringing the mystery of the salmon run to the heart of the city. Join the audience and witness the extraordinary migration of Pacific Salmon in a 25-minute cinematic spectacle. Tues-Sat at dusk until September 24th.

MERCATO Italian Market
The Italian Cultural Centre is proud to present II MERCATO, the city's only Italian Market! This unique market runs the 3rd Friday of every month from 5-9pm (July 21st, August 18th and November 24th), bringing together the tastes of Italy with the produce grown in local farms. Come shop for vibrant assortment of fresh fruit and vegetables, handmade products from local artisans and delicious food.
Evo Summer Cinema Series
It's that time of the year! Second Beach in Stanley Park will be hosting FREE outdoor movie nights as part of the Evo Summer Cinema Series every Tuesdays until August 22nd. Screenings include Beauty and the Beast, Jaws, Harry Potter & Guardians of the Galaxy Vol. 2! Come hang by the beach with friends and family and enjoy a film at dusk. Also, make sure to come earlier to secure your spot!

Ian Wallace @ Rennie Museum
Rennie Museum is pleased to announce a solo exhibition featuring rarely and never–before seen historic works of renowned Vancouver artist Ian Wallace. Highlighting Wallace's exploration of social issues, the works presented will also examine the crux of his artistic process: the intersectionality between public and private, personal and universal, process and production, abstraction and representation. The exhibition runs until September 30th.


Shipyards Night Market
Hop on the Seabus and visit The Shipyards in North Vancouver Friday evenings 5pm onwards for great food, art, music, entertainment and shopping! The Night Market will be showcasing BC's artisans, bakers and farmers. Also, be sure to come on an empty stomach as 35+ food trucks are stationed and waiting for ya! Now until September 29th.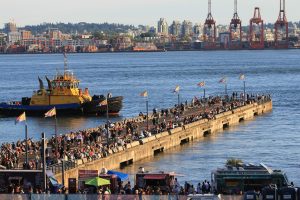 39th Annual Vancouver Pride Parade
Be a part of Vancouver's most beautiful and diverse parades in the world, Sunday August 6th from 12-3pm! The Vancouver Pride Parade granted civic status in 2013 and since, has been one of the more popular events in the city. Pride 2017 includes over 20 events throughout the summer.
Vancouver Mural Festival August 7-12
Finally, don't miss the city's largest annual free public art celebration! Vancouver Mural Festival (VMF) provides a platform for vibrant young artists to contribute to the city's cultural legacy for years to come. This summer, the festival will be presenting two separate community events in the Mount Pleasant and Strathcona neighbourhoods. Join close to 100,000 people to celebrate the creation of more than 50 new large scale murals in East Vancouver.