East Vancouver Realty Market Update: Stats for Land & Strata Housing – Fall 2016
Your EAST VANCOUVER REALTY MARKET UPDATE!
While detached housing prices have grown at an almost staggering pace over the last couple of years, we have seen some recent softening and downward pressure on prices over the last month amidst overwhelming negative media buzz and the new government regulations. Current market conditions have shown a big inventory increase for detached housing in East Vancouver while buyer hesitation is keeping sales quite limited. This means for the first time in years, we are trending in a balanced market, towards a buyer's market.
To date, there are 688 active listings in East Vancouver for detached homes, whereas last year during this month, only 452 properties were active listings. This is a 40% increase in detached homes available in East Vancouver. On the sales end, statistics show a 42% decrease in homes sold this year. Amidst this new trend, statistics show a 35% increase in average sale prices from one year ago.
Now the strata market is telling a different story – Statistics show a decrease of 58% in supply of active listings compared to last year. Sales are down just 8% over last year, so we continue to tread in seller's market waters. Prices continue to climb in the attached condo-townhome-duplex landscape, showing 33% in statistical price growth since this time last year. So for attached homes in East Vancouver, inventory is still tight while sales continue to pluck off. Entry level 1, 2 & 3 bedrooms condos continue to get strong buyer demand, multiple offers, and over-asking sale prices. It would seem local buyers who have been watching the market and saving their sheckles can seize this opportunity to finally get a home while there is a perceived cooling in the market.
*Statistics from the Real Estate Board of Greater Vancouver September 2016
VIEW THE FULL EAST VANCOUVER REALTY MARKET UPDATE HERE vancouver-east-realtor-report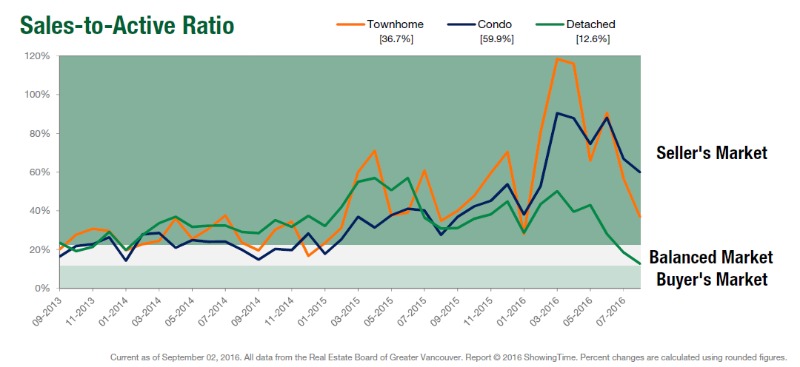 East Vancouver stats
—
We have a few wicked listings this week, so let us know if you want to take a peek!
Our Current Listings | Our Recent Sales | The Ruth & David Group
—
THINKING OF BUYING OR SELLING? WHEN YOU'RE READY, WE'RE READY.
www.ruthanddavid.com
604-782-2083