What's Happening in East Van: April Update
Spring's warm weather is giving people the much-needed energy to get out and enjoy the city, and East Van is no exception.
April is just a few days away, so we've compiled a short list of a few activities to fill your calendars for the upcoming weeks.
---
Every other weekend, take a trip to the Eastside Studios. The Studios are home to Vancouver's favourite perfectly curated flea market, with a variety of vendors selling vintage, food, plants, art, collectables, and more. The Eastside Flea is the perfect weekend gathering spot. Bonus: it's dog-friendly!
Date: April 6-7 and 20-21
Time: 11 AM to 5 PM
Place: 550 Malkin Ave
Price: $3 single day entry, $5 weekend entry
---
Cooking Class – "Everyday Thai"
They say that Spring is a fresh start.
Whether you're a total novice or already comfortable in the kitchen, taking a cooking class to learn how to create new dishes can be exciting and full-filling. On April 13th, the Gourmet Warehouse  hosts the "Everyday Thai" cooking class, led by Chef Cindy Low, a veteran leader of more than 400 cooking classes. The class includes cooking six different dishes and ten percent off purchases store-wide.
Date: Saturday, April 13th
Time: 11 AM. – 2 PM
Place: 1340 E. Hastings St
Price: $85/person
---
The Big Picnic
If you're looking for something a little bit more laidback and family-oriented, a picnic in the park is an ideal way to enjoy a beautiful day outdoors!
As part of the Cherry Blossom festival, ongoing from April 4th to 18th, Queen Elizabeth Park is hosting The Big Picnic. The picnic is a tradition that originated in Japan, and celebrates the annual cherry blossom bloom. It's a picturesque setting to mingle with the community and admire the beautiful flowers. Pack a lunch, bring a blanket – or purchase a petal mat there – and enjoy the entertainment.
Date: Saturday, April 13th
Time: 12 PM – 3 PM
Place: W 33rd Ave and Cambie
Price: Free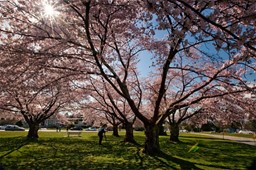 ---
Concerts
For fans of Canadian artists, Metric and July Talk will be performing their combined songs at the Pacific Coliseum on April 18th. Kick off the new season with a night out full of singing, dancing, and friends. Tickets can be found here.
Date: Thursday, April 18th
Time: Starts at 6:45 PM
Place: Pacific Coliseum
Price: Starting from $50/ticket
---
BC Distilled Festival
BC's Distilled Festival is back for its sixth annual event and will be featuring 40 different BC distilleries. Take part in Canada's largest spirits event to enjoy featured products and food prepared by local chefs at the Croation Cultural Centre. The event's partner, Pacific Assistance Dogs Society, will be selling tickets for a 50/50 draw, and yes, dogs will be on site! Tickets for the event can be purchased here.
Date: Saturday, April 6th
Time: 6 PM — 9 PM
Place: 3250 Commercial
Price: $69.99/ticket
Ages: 19+
---
Tacofino Hastings x East Van Brewing Company Collaborative Dinner
In the mood for food? Tacofino is teaming up with East Van Brewing Company for another of their collaborative beer dinners. Head down to the East Hastings location to enjoy a special five-course menu, and choose between, a 6:00 PM. or 8:30 PM. seating. This is a fun series–you won't want to miss out. Tickets can be purchased on Eventbrite.
Date: Thursday, April 25th
Time: 6:00 p.m. or 8:30 p.m.
Place: 2327 E Hastings St
Price: $55/person – includes gratuity and tax
---
Open Houses
The good weather also makes for some fun when touring properties and neighborhoods. Check out the open houses in the city here!