Trout Lake & John Hendry Park in Commercial Drive
John Hendry Park, more commonly known as Trout Lake off Commercial Drive by locals, is a highly sought after park in the Grandview Woodland – Cedar Cottage neighborhood. The pocket of green space, covering 27.31 hectares, is located at 3300 block of Victoria Drive and 15th Avenue in East Vancouver. Why is Trout Lake so desirable? Who is John Hendry and why was the park named after him?
In the late 19th Century, the park was one of Vancouver's first lumbering operations. The lake was the primary water source for Hastings Sawmill, owned by John Hendry. Lumber in the Lower Mainland had begun to flourish. In 1916, industrialist John Hendry passed away at the age of 72, having earned many titles in his lifetime. To name a few, he was President Vancouver Board of Trade; President Canadian Forestry Association and Mayor of New Westminster. He died a prominent figure in his day due to his large influence in the region's lumber industry.
After her father's death, daughter Aldene Hamber didn't want to see the land become a municipal dump. In 1926, Mrs. Hamber generously donated the land to the City, under the one condition that the park was named after her father: "John Hendry Park."
Thirty years later, the Grandview Community Center was constructed. It was later renovated in 1977 and renamed Trout Lake Community Center. In 2010, as Vancouver hosted the Winter Olympics, a new ice rink and various other renovations were completed. The community center is now a gem of East Van and an architectural marvel. As people who live in the neighborhood, we know it's a fabulous place for personal health and community connection.
One of the more special things about the goings on at Trout Lake is the welcoming of dogs. Corey Martin of our team takes his dog Blue there a few times per week. City-dogs living in the community go nuts on the north end of the lake together. Grinning ear to ear, dog people and their pups casually interact and share a laugh at the joy of their pets ripping up the beach, chasing geese and swimming in the lake.
Trout Lake Farmers Market
Saturdays 9AM- 2PM | Lakewood Dr + E 13th Ave | Over 60 Vendors | eatlocal.org/markets/trout-lake/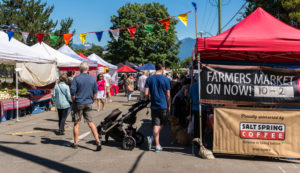 Trout Lake Community Centre 
Arts studio, pottery studio, music room, fitness center, ice rink and lots more. Click here for their community hours and schedules for various programs.
Trout Lake Beach
Sandy beach is perfect for kids to play in and make sandcastles.
GET TO KNOW EAST VANCOUVER BETTER HERE!