Vancouver Peat Bog – what is it and where can you find it?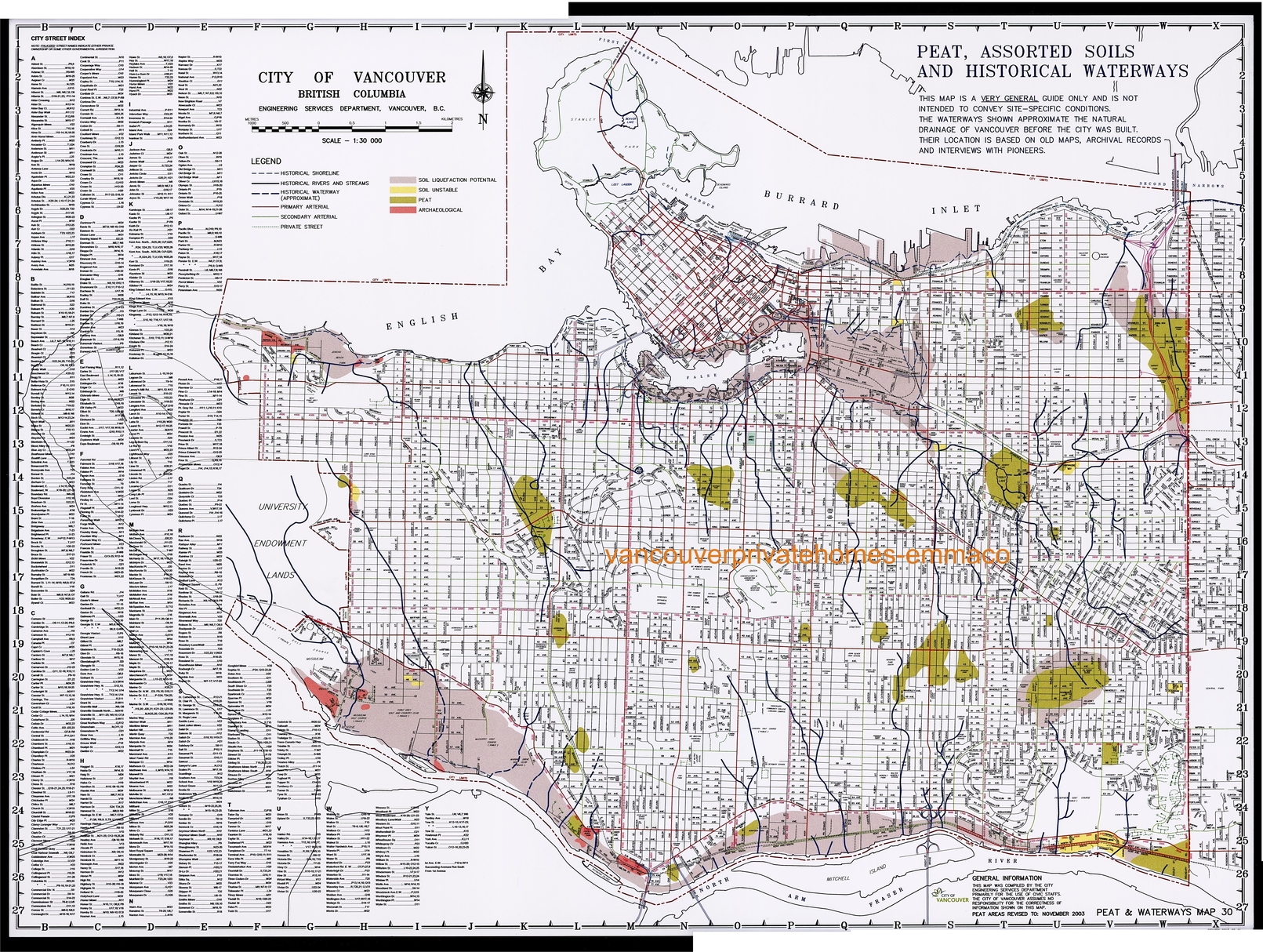 See PDF version of the Vancouver Peat Bog Map here.
What are Vancouver Peat Bogs?
Purchasing a home is one of the biggest things one will do in life. Once you begin the search for your dream home, considering your needs and price range, exploring different neighbourhoods for livability is of paramount importance. Have you ever been driving from Fraser Street to Main Street and noticed that some blocks look to be straight out of a Dr. Seuss tale? These sinking sidewalks, swampy yards and crooked structures are located on softer soil areas now known as The Peat Bog. These areas were formerly swamps and riverbeds that were drained and built upon quickly during the mid-century era. If you're looking to buy a home in Vancouver, there are many properties located on The Peat Bog to be aware of when shopping. Compromised framing, sinking foundations, crooked fence lines and muddy yards are the least of your worries in these areas. Purchasing a home or lot located on the Peat Bog can add significant risks in the livability / maintenance and often changes the overall value of a property. New builds have many extra city requirements (soil samples, safety reports) which add paperwork, time and money to your project. The Peat Bog is just one more important reason to hire an experienced local Realtor to help you in your search. In most cases a Buyer's Agent is completely free to the Buyer. It's important to hire one you trust to be educated by about the factors that effect the areas you are interested in.
Always check The Peat Bog map
It is important to always check on a peat bog map and understand that it is not a perfect resource. The borders of the map are not proven without site testing. You will not know if a property is truly affected without professional soil testing. Be sure to do a thorough visual investigation of the foundation, framing, and drainage for any property located near a Peat Bog area on the map, AND ANY OTHER PROPERTY FOR THAT MATTER! The map above shows bog areas in green. Areas to be wary of are those surrounding Trout Lake, Prince Edward Street and Inverness Street; pockets from 16th Avenue to 24th Avenue and many blocks near Kingsway.
What can be done to help these boggy areas?
To straighten up and add support to a structure on the bog, many will use SCREW PILES. These long steel posts are drilled down until they hit hard surface material to rest the structure upon. In addition to using Screw Piles, which can be very expensive and arduous to install depending on how far down the soft soil goes, added efforts in landscape planning and drainage are also required to create a functional, dry and stable property throughout. The City of Vancouver is doing its part today by testing rubber sidewalks to expand the usable life of these shifting surfaces.
Sometimes, you'll find a listing asking an unbelievable asking price. Well… let's just say there's always a reason for it! The R&D Group have over 30 years experience and are knowledgeable with The Peat Bog areas in Vancouver. If you are interested in a home in these areas, please do not hesitate to contact us. We are here to help our community!
---
By Willo Jackson – Realtor with The Ruth & David Group
778-554-9557 | [email protected]